November 12, 2021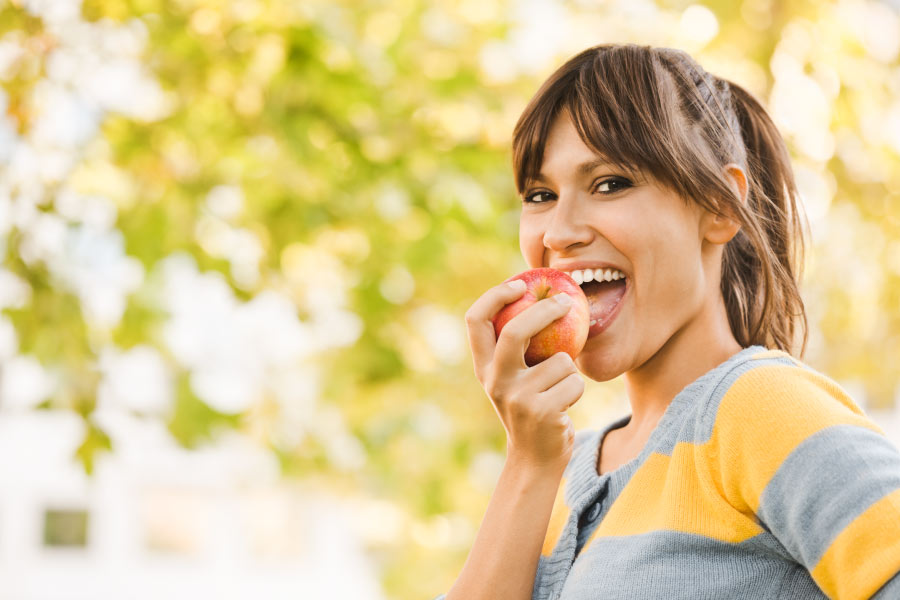 Many foods that are traditionally eaten in the fall are far more tasty than they are healthy. While it's perfectly fine to enjoy sweet and starchy foods in moderation, it's important to also mix in some healthier options to keep your teeth in good shape. Some foods are naturally abrasive and can essentially scrub the teeth while you chew. While they are not substitutes for actually brushing your teeth, they can help you keep your teeth cleaner in between brushings. And cleaner teeth are healthier teeth. Here are some examples of foods you can add to your diet this fall to keep your teeth and your stomach happy.
Pumpkin & Pumpkin Seeds
Pumpkin-flavored treats, like pumpkin spice lattes, pumpkin pie, and pumpkin bread, tend to be very popular in the fall. Unfortunately, even though these sweet treats contain pumpkin, they are still considered desserts and are not particularly healthy. They also don't help much when it comes to maintaining a clean and healthy smile. Alternatives like roasted pumpkin seeds and pumpkin smoothies contain all of the excellent tooth-friendly nutrients without the added fat and sugar.
Apples
Apples are a favorite fall fruit, especially when they can be picked straight from an orchard. Because apples are an acidic fruit, some people worry that they are bad for teeth, especially when it comes to tooth enamel. However, the acidity and natural sugars in apples actually help fight off bad bacteria in the mouth.
Nuts
Nuts like walnuts, pecans, macadamias, peanuts, and cashews are popular around the holidays. If you have the option to choose between candied nuts and plain ones, plain nuts are the obvious choice when it comes to maintaining positive oral health. However, both are still a great option for cleaning teeth. It's an especially good idea to snack on them in between other holiday treats.
Carrots & Celery
Cold weather is the perfect time to make hot soup! When looking for ingredients to add, carrots and celery are great ones for your teeth. They are full of important nutrients, including vitamin C and vitamin A, which can actually help to strengthen tooth enamel. Chewing raw celery and carrots can also massage the gums and help scrub the surface of the teeth. They make a great addition to a holiday vegetable tray.
Optimizing Your Oral Health in Oakboro, NC
Happy holidays from our team at Oakboro Family Dentistry! We hope your holiday season is filled with happy memories with loved ones. Celebrating always includes favorite holiday foods, but if you indulge in moderation and maintain good oral hygiene, your teeth will come out just fine! We want you to look and feel your best during the holidays. Have you scheduled your second annual dental exam and hygiene cleaning? Would you like to brighten your look for holiday events with teeth whitening? Give us a call to get on the books before the end of the year!
Contact Us
Categorised in: Family Dental Care, Healthy Diet, Oral Health, Oral Hygiene, Preventive Dentistry