March 30, 2020
Leave your thoughts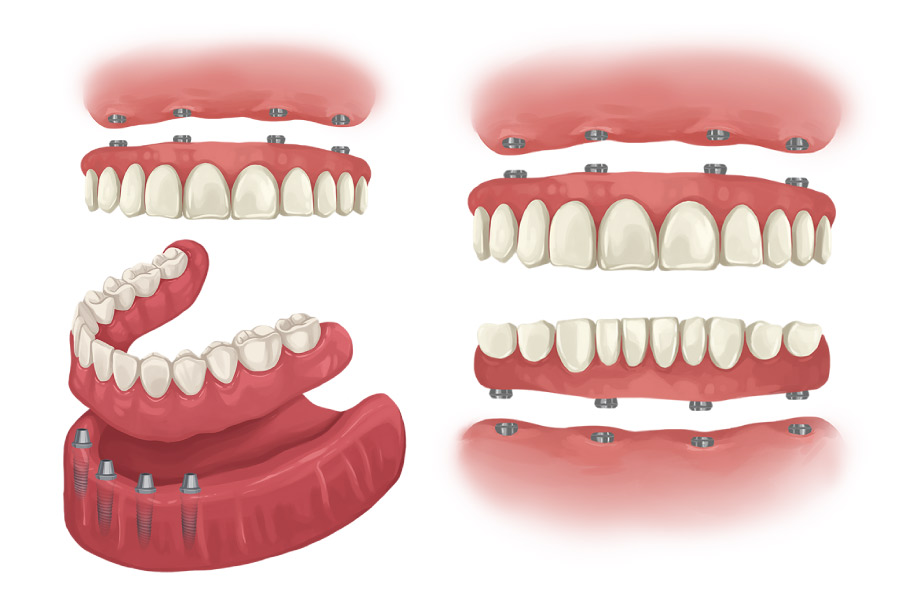 Along with your ability to talk and chew, living with missing teeth can negatively impact your confidence. At Oakboro Family Dentistry, your dentist in Oakboro, NC, we offer several restorative treatments that can repair your smile so you'll want to show it off again. In this blog post, we talk about one such tooth replacement solution: implant-supported dentures.
What Are Implant-Supported Dentures?
Implant-supported dentures are designed to eliminate one of the common complaints about regular dentures: the mess and annoyance of using adhesives and glue. Instead, implant-supported dentures rely on dental implants for foundational support. To wear your dentures, you simply snap them onto your implants, enabling you to easily eat, speak, and smile. At the end of the day, the dentures snap right back off for cleaning.
How Do Dental Implants Support Your Dentures?
After a consultation to determine that your jawbone is strong enough for dental implants, we'll begin a multi-step treatment process. First, we will surgically place the implants in your jawbone. As the implants heal, they will fuse with your bone to provide a strong foundation for your dentures. Meanwhile, we will custom-create your new dentures to fit comfortably in your mouth.
Once everything is adjusted to ensure a comfortable fit, you'll be able to wear and remove your dentures with ease. Best of all, you don't have to worry about your dentures slipping around your gums throughout the day. Additionally, the implants prevent deterioration of your jawbone. This preserves your jaw's strength and shape, thus maintaining your natural facial structure.
How Long Do Implant-Supported Dentures Last?
With the proper care, your implant-supported dentures can last for many, many years. Our team will provide easy-to-follow instructions on caring for your dentures, implants, and gums at home. We'll also monitor your dentures during each of your regular visits to our dental office in Oakboro, NC.
Restore Your Smile at Oakboro Family Dentistry
Implant-supported dentures may be the perfect restorative option for your smile and your budget! Contact us today to learn more about this treatment or to schedule a consultation at Oakboro Family Dentistry, your Oakboro dentist.
Contact Us
Photos by Authority Dental under CC 2.0
Categorised in: Restorative Dentistry